About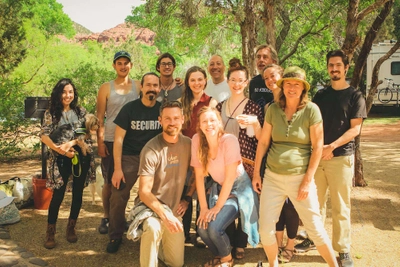 Camp Avalon Spiritual Nature Retreat is an outreach ministry of Global Community Communications Alliance, a non-denominational temple-church community, tax-exempt under IRS § 501(c)(3), which operates spiritual and educational services and programs for the encouragement of spiritual healing and rejuvenation through connection to the natural world.
Camp Avalon Spiritual Nature Retreat is located in the magical Red Rock country of Sedona, Arizona. In the early 1990s our Pastor and founder, Gabriel of Urantia, deemed Sedona as "the spiritual Mecca of the Western world". Truly the only outdoor temple and retreat open and available to those who seek spiritual renewal and solace along the banks of Oak Creek just downstream from majestic Cathedral Rock.
For more than 25 years sojourners, human-rights ministers and missionaries in training, church members, and welcome visitors have come from all races and religions around the world to this sacred place for personal growth, classes, reflection, renewal, transformation, retreat, worship, celebrations, and inspiration. Nurturing life-enriching ceremonies, workshops, traditions, fellowship, and spiritual practices are the focus of all activities in the garden. The beauty and spiritual energy of this land creates an environment for higher receptivity to divine leadings and devotional prayer.
Camp Avalon Spiritual Nature Retreat is infused with decades of prayer and care by devoted volunteers from the four corners of the earth, as well as the living spiritual forces present on the land long before us. Upon entering this garden sanctuary, many people have experienced the feeling of a monastery or ashram. The activities of hundreds of sacred events, Native American ceremonies, meditation retreats, drumming and prayer circles, weddings and baptisms, celebrations of life and healings, and educational workshops, have created a uniquely uplifting energy field that substantiates the drawing force of what Sedona has become known for. The grounds offer several different vignettes including a handcrafted stone creekside amphitheater that has been the setting for ceremonies for more than 20 years.
We invite brothers and sisters from all walks of life who embrace the vision of a world of unity and higher consciousness to come and share in all we have been blessed to steward at Camp Avalon Spiritual Nature Retreat.
We provide sacred space for personal journeys as well as Spiritual Activities.
The emphasis of Camp Avalon Spiritual Nature Retreat is to openly commune with our Creator and the natural living spiritual presence on this sacred land near Oak Creek. This happens through many avenues, but primarily through intention and the family and individual's desire to come closer into the space where a personal relationship can be created. Limiting material distractions and affording guests the opportunity to shed their distractions and feel happiness through togetherness with nature brings about miracles. This is just the beginning of what a retreat at Camp Avalon Spiritual Nature Retreat can do. It is way more than sleeping overnight in a tent or RV.